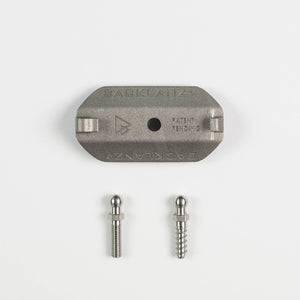 This mounting bracket is designed to have a universal fit to most off the shelf hunting rifles with conventional stocks. If your rifle has a flat forend around your sling attachment point please refer to our bench stock mounting bracket here 
The bracket is made from a Titanium and is intelligently designed and manufactured to add no more than 15 grams of weight to your rifle. Install simply by removing your existing sling stud and replace it with matching threaded ball stud supplied. Your sling will mount directly to the mounting bracket.
Titanium construction 
Easy fit to your rifle without modifications
Weight - 15g
Allows you to swap one Backlanz bipod across multiple rifles
Fits to all Backlanz Detachable Bipods
USA Patent 10,921,082
NZ Patent Application Number 757276
Australian Patent Application Number 2019229526
Rifles that will require custom fitting:
- Sauer 100
- Sako 85 Bavarian Walnut Stock
- Steyer Pro Hunter S/S
- Older rifles with wooden stocks
This list is subject to change as we become aware of non compatible rifles.